Skip to Main Content
It looks like you're using Internet Explorer 11 or older. This website works best with modern browsers such as the latest versions of Chrome, Firefox, Safari, and Edge. If you continue with this browser, you may see unexpected results.
Computers
Computer: Topic Page

Machine that can be controlled by a program of instructions to accept and process data.

Personal Computer: Topic Page

Small but powerful computer primarily used in an office or home without the need to be connected to a larger computer.

Supercomputer: Topic Page

A state-of-the-art, extremely powerful computer capable of manipulating massive amounts of data in a relatively short time.
Computer Components
Computer

From
Philip's Encyclopedia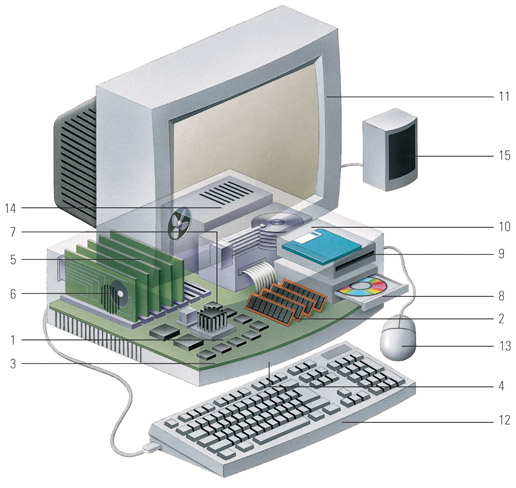 The main components of a computer are: (1) the central processing unit (CPU); (2) RAM; (3) BIOS and ROM chips; (4) the mother board; (5) expansion cards; (6) video card; (7) expansion slots; (8) optical disc drive; (9) floppy disc drive; (10) hard disc; (11) monitor; (12) keyboard; (13) mouse; (14) power supply, and (15) loudspeaker.
Portable Computers
Notebook Computer

From
The Hutchinson Unabridged Encyclopedia with Atlas and Weather Guide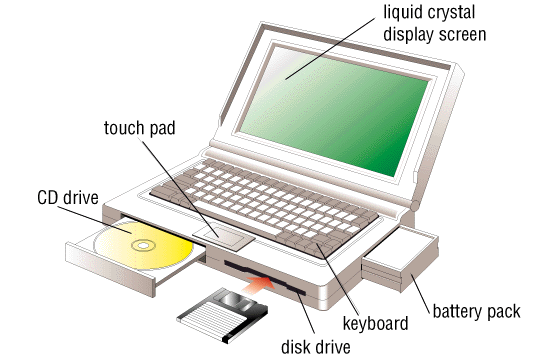 The component parts of a notebook computer. Although as powerful as a microcomputer, the battery pack enables the notebook to be used while travelling. (Image © RM)